Low Power Network (LPN) LoRaWAN
The network for your IoT applications. It cuts your devices' energy usage and is ideal for transferring small quantities of data. The Swisscom LPN already covers more than 97.0% of the Swiss population.

Your advantages with LPN LoRaWAN
Connected nationwide
Swisscom is the only provider covering the whole of Switzerland. Cooperation with the SBB, Swiss Post and NeoVac means the network is quickly growing.
Coverage
Strong network coverage both indoors and outdoors, reaching 97.0% of the population. The 24 largest SBB railway stations are also covered internally.
Availability
Highest network availability throughout Switzerland with continuous network monitoring (24/7) and professionally managed field services that solve network coverage problems within 24 hours.
Roaming
Ongoing expansion of the roaming network.
Current state:
France, Netherlands, Belgium, Finland, Norway, Sweden, UK, Ireland
---
---
Further information about LPN can be found here:
Network coverage map
The Swisscom LPN currently covers 97.2% of the Swiss population. The information contained in this map is based on network coverage simulations, so small variations in coverage may occur.
Test our Network
With our Field-Tester you can test the LoraWAN network quality from anywhere!
It comes pre-provisioned in the Swisscom LoraWAN network. A Swisscom LoraWAN Account is not required. Just turn it on and start measuring your signal.
---
Swisscom Multisense
One device, endless possibilities
A simple plug-and-play solution with a range of different sensors in a compact, battery-powered device.
Monitors and automates operations in various situations, e.g. detecting workplace occupancy and doorways or as a general service button.
Reduces the complexity of IoT projects and is quick to install without in-depth technical knowledge.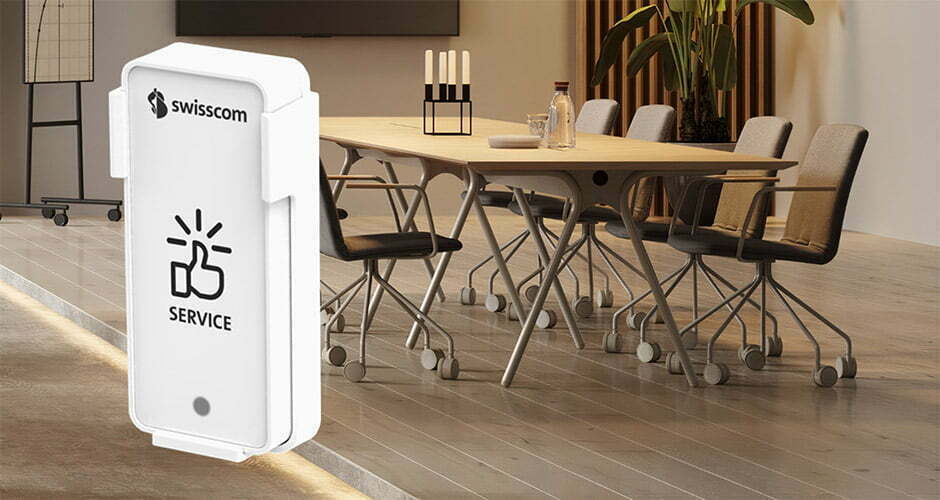 An IoT device for every situation
The highly versatile Multisense device is ideal for hotels, restaurants and catering businesses, care homes, hospitals and logistics companies.
Swisscom's Multisense provides you with a simple plug-and-play solution for every situation:
Doorway monitoring
Temperature and humidity readings
Activation of motion alarms
Detecting workplace occupancy
As a general service button
Your benefits with Multisense
(PDF file, English)

(PDF file, English)